GAY G. GUNN
Brought to you by DIFFERENT DRUMMER, LLC
Now available. For more, click on cover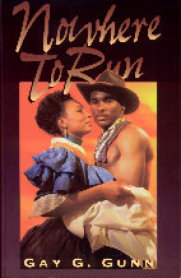 Nowhere To Run
A historical novel that sends a freed slave out west. The black man who owns a town in the
Sierra
Mountains
is tired of white and Chinese women and wants a black woman like himself—like his mama. He sends his best buddy the only place you can get a black woman in 1850—south to slavery.
This critically acclaimed novel was required reading for American History at Spanish River High School in Boca Raton, Florida, for African American Literature at Prince Georges Community College, and presented at Howard University's School Of Social Work Lecture series.
Nowhere To Run was selected by the Library of Congress as a book on tape for the Visually Impaired and its female protagonist, Cassie Lee, was analyzed by Dr. Rita B. Dandridge in her book,Black Women's Activism. For more, click on cover.
August 1997
ISBN-10-1885478135; -13:978-1885478139