GAY G. GUNN
Brought to you by DIFFERENT DRUMMER, LLC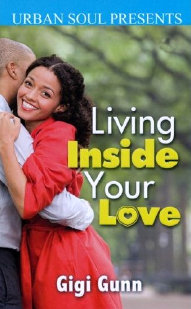 Living Inside Your Love
"Daddy used to say, 'don't sleep where you eat'."
What do you get when you put together two determined, ambitious attorneys?
You get the courtship of Georgia MacKenzie and Jared Jaymes.Georgia has become a workaholic to keep her mind off the recent death of her fiancé. Jared is working nonstop because he has his sights set on becoming Philadelphia's next mayor. All these hours spent working together have Jared envisioning Georgia by his side as the city's future first lady, but Georgia has no interest in dating her boss.
While trying the case of a Mob-connected hit man, Georgia is threatened by the Mafia and fears for her life. This is Jared's chance to be her protector. Will Georgia uphold MacKenzie maxim -- "don't sleep where you eat" -- and reject her second chance at love?
ISBN-10: 159983099X ; -13: 978-1599830995
Now available. For more, click on cover